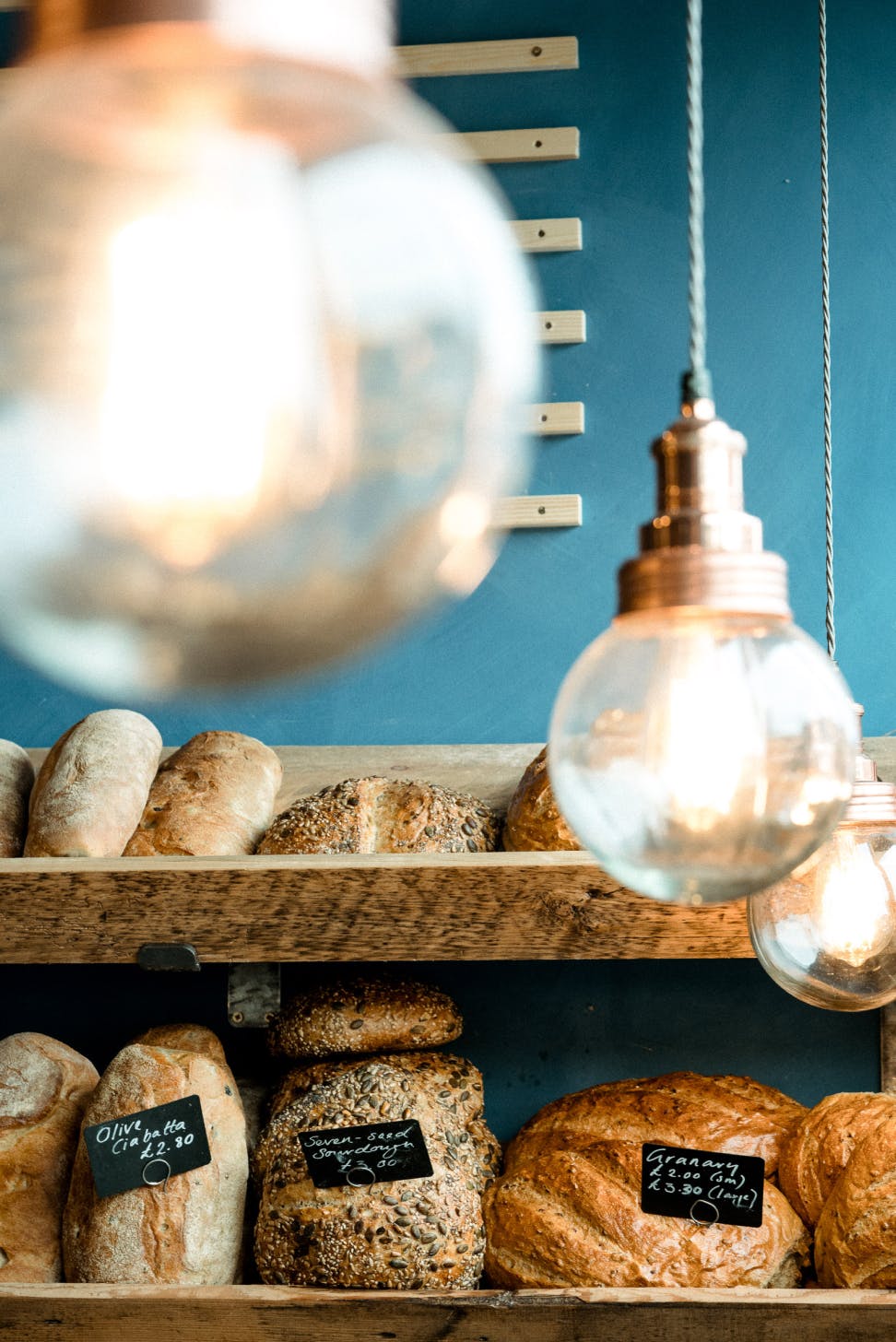 BREAD, PASTRIES & SWEET TREATS
All
THE SEVEN-SEEDER SOURDOUGH

THE WHOLEMEAL SOURDOUGH

A tongue-twister of a loaf, this is our most popular sourdough. It's packed full of sesame, sunflower, linseed, pumpkin, chia, alfalfa and poppy seeds and toasts up a treat.

THE WHITE SOURDOUGH

A social media star, the white sourdough is our most photographed loaf. Perhaps the combination of spritely top crust and shapely form are what makes it so aesthetically pleasing. Good to know it tastes great too.

THE WHITE COB

Crusty on the outside, soft on the inside. our cob is all a cob should be. Whether you soak it in soup or serve it with bacon, it's a family favourite.

LA BAGUETTE

deally eaten in Paris for breakfast along with a cafe au lait, but if you can't make it our Yorkshire version is a classic. Slice for bruschetta or serve with olive oil and balsamic, salami or cheese. There's no end to what you can stick on your stick.

SPELT SOURDOUGH

Ah, the cult of spelt. We can never make enough of this - it's nutty flavour is great for those who can't easily digest wheat so it has a very loyal following. See also the Golden Kamut.

THE GOLDEN KAMUT

We only bake this when we can lay our hands on the flour, but it would remiss to overlook it here. An ancient grain, similar to spelt, the baked result has a wonderful nutty flavour and a flavoursome crust. There's always a bit of excitement when these hit the shops.

SUNFLOWER & RYE

Our most popular rye, this has a just-right moist middle and is peppered with sunflower seeds throughout. It goes with everything, toasted or not, and lends itself particularly well to fish, meats and spreads.

THE BORODINSKY

According to legend this loaf is named after the 1812 battle of Borodini in Moscow in and the coriander seeds represent shot pellets. Ours includes a hint of molasses to add an unrivalled depth of flavour. Now that's fighting talk.

THE GREAT GRANARY

Named after our great gran, who counts this among her faves. This is a staple; it comes in two sizes and is always popular with customers, restaurants and delis.

FOCACCIA

Whether you plump for a simple rosemary and sea salt or full-impact olive, pepper and jalapeno, our focaccias have evolved with us over the years and remain a substantial lunch option.

EARL GREY TEA CAKES

We soak our fruit in earl grey tea overnight, giving a subtle bergamot flavour which lends these a little twist. They are firm favourites in all three shops.

FRANGIPANE TARTS

Raspberry or apricot? With ice-cream or without? One each or one to share? We'll leave you with the choices while we concentrate on baking the little beauties.

LEMON MUFFINS

More pudding than muffin, these combine a brilliant balance of sweet/tart and that drizzle through the middle is tantalisingly good.

SALTED CARAMELS

The ratio of chocolate to caramel to crumb is of extreme importance here and we think we've nailed the balance. Try one - what do you think?

BLUEBIRD BROWNIES

Our Yorkshire brownies are (ahem) award-winners and the recipe is a closely guarded secret. Safe to say they are a Bluebird favourite. Made with GF flour.

SPINACH & CHICKPEA ROLL

Drum roll please. With a hint of spice and packed full of healthy, tasty stuff, this one's always a winner.

BENGALI FIVE-SPICE ROLL.

The lure of the five-spice roll is the stuff of legend at our bakery. It disappeared for a while and there was an uproar. With a heady mix of potato, carrot, pea, red onion, garlic, ginger and a hint of chilli powder (and our five secret spices) these fly off the shelves.

THE SAVOURY DANISH

A firm favourite for Bluebird customers, these comprise a twist of bread with cheddar, olives, tomatoes, pesto and red onion. Affectionately known as the 'swirly-whirlies'

CIABATTA

Whether you buy a stick or roll, our ciabatta is an authentic Italian classic. With its crisp crust and spongy crumb, this loaf is best eaten on the day.

WHOLEMEAL TIN LOAF

One for slicing, this is slightly nutty with a close crumb and tasty finish. A winner for packed lunches everywhere.

THE BLOOMER

This is a beast of a loaf - crusty on the outside and soft on the inside - perfect for feeding a gathering of friends or family.

THE OLIVE AND HERB

A white, soft flour peppered with herbs and loaded with olives. Sound good? Better give it a bash then.